FOR IMMEDIATE RELEASE
Scott Thistle, MaineHousing
NOTE: A previous version of this press release, sent on Dec. 17, 2021 included incorrect information. MaineHousing regrets the error and apologizes for any inconvenience this has caused.
MaineHousing is announcing the allocation of Maine Affordable Housing Tax Credits and federal Low Income Housing Tax Credits (LIHTC) to build or renovate seven affordable housing developments across Maine.
The combined $8.2 million in tax credits will generate over $44.1 million in equity from private investors. With an additional $12.4 million in subsidy and $15 million in loans from MaineHousing. Approximately $71.4 million of MaineHousing funding will leverage additional public and private sources to create or preserve 332 housing units across the state. Of those units, 281 will serve households at or below 60% of the area median income or $42,720 for a family of four, in the Lewiston-Auburn area.
"We are excited to make these awards and keep the momentum going to create more affordable rental housing in Maine," MaineHousing Director Daniel Brennan said. "Our pipeline of projects has never been bigger, and our production numbers continue to set records. These investments means hundreds of additional safe, affordable homes are on the way for our workforce and our older Mainers."
MaineHousing selected seven developments from 10 proposals. Developments that received funding include the adaptive reuse of a historic mill in Lewiston, preservation of a Rural Development project in Belfast, and two new construction projects on the former Mercy Hospital campus in Portland.
Lewiston Housing Authority and the City of Lewiston were awarded the $30 million Choice Neighborhoods Implementation Grant from the U.S. Department of Housing and Urban Development earlier this year. Lewiston is the first city of its size to receive both the Choice Neighborhoods planning and implementation grants.
"This tax credit award is a key investment in transforming the Tree Streets neighborhood in downtown Lewiston," Chris Kilmurry, the executive director of Lewiston Housing Authority, said. "So many people and organizations are partnering and investing their time to grow the Tree Streets neighborhood into a healthy, welcoming, and vibrant place where people live in safe homes they can afford. We're grateful to MaineHousing for their support and recognition of this critical work."
Nathan Szanton, president of the Szanton Company, which is working to develop the Lewiston Picker House project also said the tax credits are a key part of the funding for the project.
"We're thrilled to receive this allocation of affordable housing tax credits from MaineHousing," said Szanton Company president Nathan Szanton. "It will enable us to bring to life about 85,000 square feet of the former Picker House in the beautiful Continental Mill, right on the banks of the Androscoggin River. Picker House Lofts, as we're calling it, will add 72 new households—72 little economic engines—to the downtowns of Lewiston and Auburn."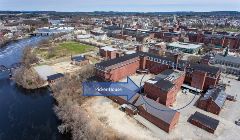 MaineHousing approved the following projects for tax credit allocation:
Development & Location

Developer

Units & Type

Federal Tax Credits Awarded

Maine Tax Credits Awarded

Est. Total Tax Credit Equity

Belfast Birches, Belfast

Realty Resources

24 affordable units for older adults

$330,000

$2,771722.8

Lewiston Choice Neighborhood

Lewiston Housing / Avesta Housing Development Corp.

49 affordable and 25 market rate units for families

$959,999

$8,172,614

Picker House Lofts, Lewiston

The Szanton Company

46 affordable and 26 market rate units for families

$920,000

$7,923,160

115 Congress Street, Belfast

Developers Collaborative

36 affordable units for families

$720,000

$5,903,410

246 U.S. Route One, Scarborough

Avesta Housing Development Corp.

31 affordable units for older adults

$620,000

$5,269,473

Equinox, 75 Winter Street, Portland

Equinox Housing Partners

43 affordable units for families

$627,402

$1,740,122

$7,002,901

Winter Landing, 91 Winter Street, Portland

Winter Street Development, LLC

52 affordable units for older adults

$639,006

$1,635,105

$7,064,603
###

MaineHousing has helped Maine people own, rent, repair, and heat their homes since 1969. MaineHousing is an independent state authority created to address the problems of unsafe, unsuitable, overcrowded, and unaffordable housing. MaineHousing is a $2.1 billion financial institution with a staff of over 190 people. MaineHousing assists more than 90,000 Maine households and invests more than $300 million in the Maine economy annually. For more information, visit mainehousing.org.